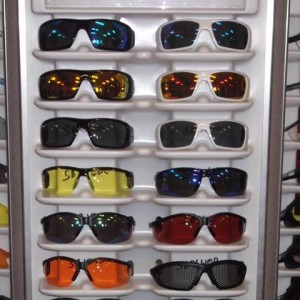 The days are getting longer and we are seeing more sunshine; what a great time for a new pair of shades! Match-It Supplies has a wide assortment of sunglasses in stock. Visit us today to check out our line-up.

Choosing the right pair:
Make sure the lenses are dark enough to keep your eyes comfortable, but not so dark that they reduce your vision. If you spend a lot of time outdoors in intense glare from sunlight bouncing off snow or water, you should wear sunglasses that block blue light. Medium to dark lenses with a grey, or a slightly brown or green tint, will filter out most blue light.
Most sunglasses have plastic lenses. These lenses are tougher than glass and less likely to shatter. If you buy plastic lenses, look for a pair with a scratch-resistant coating. Check the lenses for distortion by putting the sunglasses on and looking at a rectangular pattern, such as floor tiles. If the lines stay straight when you move your head up and down, and side-to-side, then the amount of distortion is acceptable.
Sunglasses are made with different kinds of lenses to meet different needs:
Regular lenses reduce the brightness of everything evenly.
Polarizing lenses are designed to cut glare due to reflection. This means they are good for driving and outdoor activities in the snow or on water.
Photochromic lenses change with the intensity of UV light by turning darker when outdoors and lighter when indoors. If you wear these for driving, choose sunglasses that are fairly dark.
"Flash" or mirror lenses reflect all or part of the light instead of absorbing it. They offer no performance advantage as they scratch easily. You should choose a pair with a scratch-resistant coating.