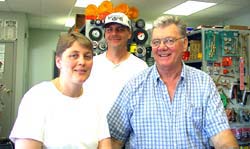 Lindsay Matchett started filling fire extinguishers in his spare time in the mid 60's.  He went into business full time in the late 60's and incorporated Match-It Supplies Ltd. in 1972.  The business started out servicing and selling fire extinguishers, and eventually branched out to selling safety equipment, welding supplies and material handling equipment.  In the early 80's, Dean and Donnalu came to work with Lindsay, and the family business grew.  In the early 90's, the location at 170 King George Hwy. was built, and our inventory expanded.
Lindsay believed that customer service should be the number one priority, and the phone should be answered on the first ring.  Our suppliers and customers get a real kick out of how fast Dean is at answering the phone.
The company has been very fortunate over the years to have wonderful customers, that help keep the business thriving.